Name:
Vyxen Steel ......
Hometown:
Montreal, Canada
Birthday:
March 29th, 1992 ......
Measurements:
32D-26-35
Bio:
Montreal-born blonde bombshell Vyxen Steel is a self-confessed sex addict. She has been watching porn daily ever since she was in high school. "I watched porn on a daily basis. The girls that i use to watch as a teenager that i found extremely hot were Janine and Sasha Grey," she recalls. For the past few years, she has been busy steaming up screens by trying out just about every sexual fantasy she had for herself. Girl-girl, group, anal, DP, Vyxen has enthusiastically thrown herself in to doing them all. "The best things about being a porn star is being able to discover your body in ways a regular civilian wouldn't. I also think it's pretty great that I get to enjoy what I do and get paid for it - not to mention, not doing a 9 to 5 office job!" she says.

Vyxen, also sometimes spelled Vixen, is a heavy duty culture freak. The name Vyxen she chose because it comes from a German term for female fox or malicious woman. That suits her character down to the ground. Steel, meanwhile, stems from her love of heavy metal 80's rockers Steel Panther - just about her favourite band. Few people would probably guess Vyxen's favourite fetish of late. She has the sort of power girl personality which doesn't initially suggest she might be a fan of shibari bondage. But Vyxen says the discovery has seen her experience many a big squirter orgasm. "Because I have such a strong character people don't tend to think that I love being submissive and put back into my place but I really do think that is the hottest thing ever!" she says. Her fans which become members of her recently established personal site get treated to that and a whole lot more, including live shows and free bonus access to the excellent 35+ paysite in the Puba network.
Canadian Pornstar Vyxen Steel's Hot Personal Site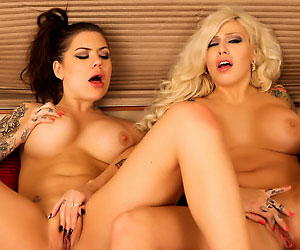 Canadian Pornstar Vyxen
Steel Lesbian Video
Horny Vyxen Steel
Takes Big Black Cock
Pornstar Vyxen Steel
Under Milking table